Breeds of Beef Cattle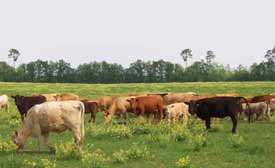 Cattle are considered to have been one of the first animals domesticated by man for agricultural purposes. They were tamed to provide milk, meat and hides and for draft purposes. The exact time and place this happened is hidden in the mists of antiquity, but it is thought they were probably first domesticated in Europe and Asia about 8500 years ago.
Domesticated cattle are in the family Bovidae which includes ruminates with paired, hollow, unbranched horns that do not shed and an even number of toes. They belong to the genus Bos and the subgenera Taurine which includes the two species tarus and indicus.
Cattle are ruminants (as are sheep, goats, deer, and giraffes), which gives them a unique digestive system that allows the digestion of otherwise unuseable foods by regurgitating and rechewing them as cud. They thrive on grasses and other low quality plants built predominantly of cellulose. Cattle have one stomach that has four compartments. They are named the rumen, reticulum, omasum, and abomasum. The rumen is the largest compartment and is like a fermentation tank, providing the anaerobic environment, constant temperature and pH, and constant mixing that allows microbes to break down the cellulolse. The reticulum, known as the "Honeycomb", is is the smallest compartment. The omasum's main function is to absorb water and nutrients and is known as the "Many Plies." The abomasum is most like the human stomach; this is why it is known as the "True Stomach."
All breeds of British and European cattle like Angus, Hereford, Charolais and Simmental belong to the tarus species. The humped cattle of the tropical countries like Brahman and Africander belong to the indicus species. Many contemporary breeds are the result of crossing two or more of the older breeds. Most of the new breeds originating in the United States were developed in the Southern states where the standard breeds lacked resistance to heat and insects and did not thrive on the native grasses. Other Bovidae that are so closely related to true cattle that they can interbreed include the bison, buffalo, and yak.
Purebred cattle breeds have been selectively bred over a long period of time to possess a distinctive identity in color, size, conformation, and function and have the prepotency to pass these traits to their progeny.
The world cattle population is estimated to be about 1.3 billion head, with about 30 percent in Asia, 20 percent in South America, 15 percent in Africa, 14 percent in North and Central America, and 10 percent in Europe. The 10 states in the US with the largest cattle populations are Texas, Missouri, Oklahoma, Nebraska, South Dakota, Montana, Kansas, Iowa, Kentucky, and Florida.
Click on the breed you would like to know more about in the Index on the left.
These are some of the current topics being discussed on CattleToday.com's Breeds Board. Why don't you join in?
Cattle Today Online!
Cattle Today Online is the cattleman's guide to the cattle business. Take your time and look around. You'll find the net's best cattle news, free livestock classified ads, free ranch listing, the latest USDA livestock market report, free ranch email, Baxter Black, and a free newsletter just for ranchers. While you are there browse our Links and find a list of breeders. Or make someone smile by sending them a Cow Card!
---
These are a few of the topics being discussed on the Q&A Boards.
Just click on the topic to read it. Why not join the discussion?
CattleToday.com
CattleToday's Q & A Boards are a Cattle Forum for swapping information and asking and answering questions about breed, health problems, beginners questions and jokes about cattle and horses.

Just got here...
by HDRider (Posted Sat, 07 Dec 2013 09:12:26 GMT)
GiMortal5 wrote:Hey all. I'm Harry...just signed up. Hope I can get some great info here.

You will...


---
FIRED!!! Kubiak is GONE!! Who will coach Houston?
by chippie (Posted Sat, 07 Dec 2013 09:08:47 GMT)
I don't blame him for the players screwing up. He can't control what they are thinking when out on the field. A coach can only do so much.
http://www.battleredblog.com/2013/12/6/5182544/an-open-letter-to-gary-kubiak-thank-you
---
Hard Cull'in 3.0
by Backbone Ranch (Posted Sat, 07 Dec 2013 09:06:17 GMT)
We haven't experienced this yet. We have some females that will be 11 in three months and they were palpated to calve with the majority of our females. Some of them calved a bit late as 8 year olds, but by the time year 9 rolled around they were back in the first cycle with the 4 year olds.
---
American Angus Association Registration?
by GiMortal5 (Posted Sat, 07 Dec 2013 09:05:34 GMT)
I don't know if this has been discussed anywhere, but I looked around and did not see anything. I have black Angus cows I have purchased and they are all previously registered. When my calves are born I want to continue registering them. I was trying to sign up on AAA, but they were asking for a customer code. This may be dumb, but what is a customer code and how do I go about getting one? can anyone help a newbie?
---
Generator time???
by dun (Posted Sat, 07 Dec 2013 09:03:58 GMT)
jedstivers wrote:They shouldn't put them in the way if they want them to stay in the air.
They'll even do it if you smack a pole hard enough with a batwing brushhog to knock it down. Didn;t even charge for it.
---
Beginner to Beginner
by Fire Sweep Ranch (Posted Sat, 07 Dec 2013 08:59:41 GMT)
cowgirl_jenna wrote:Yes, the end is outside of the vulva. Then the pipette is placed inside of it. The best way to describe it, is if you have bred mares, or done a culture on a mare. It is like an extra sleeve on the pipette, that softens it. Flexible.... it looks like a great big clear straw with a soft plastic tip. I will see if I can find a picture...
Here is a link to what I think is the same thing she used....http://livestockconcepts.com/en/ai-bree ... ctors.html
I've thought of trying these too thinking the same thing that they might help in the ways you stated? I think these are the same thing...
http://www.enasco.com/product/C11050N
Jenna, that is almost exactly like what she used!
---
Double whammy this week
by Green Creek (Posted Sat, 07 Dec 2013 08:56:10 GMT)
Sent you a PM .
---
Star Simangus
by glacierridge (Posted Sat, 07 Dec 2013 08:47:25 GMT)
Ron I think she's lovely.
I'm glad that you kept her.
I think she will surprise you. :-)
Baby comes in March?
I can't wait BTW!
---
The date that lives in infamy is here again.
by TennesseeTuxedo (Posted Sat, 07 Dec 2013 08:29:42 GMT)
Great picture Ron!
---
Ice Storm Pictures
by hooknline (Posted Sat, 07 Dec 2013 08:16:20 GMT)
dun wrote:hooknline wrote:dun wrote:Those pictures bring back memorys of 2007, none of which are pleasent
The wife and I flew up to Albany New York right before that storm. It hit while we were there and had subsided by the time we left. I had never been through an ice storm like that before
I flew over an area that had an icestorm in norht carolina probably in the late 60s. The ground really looked spooky with all that glittery white as far as the eye could see.
What is kind of funny, in a warped way, is that my traveing through this area in an icestorm in 65 was what made me want to live here. Not because of the ice but because the locals took us in like we were long lost relatives until the roads cleared. I decidedfrom that I would like to live in a community that was so kind and generous. This many years later and I haven;t been disappointed, it's still has a great amd friendly community spirit.
That's pretty cool. There's a bunch of good people out there
---
Connealy In Sure 8524
by Farmgirl (Posted Sat, 07 Dec 2013 07:56:23 GMT)
I looked at the High Definition bull. He is DDC and has a huge milk number. That was enough for me to steer clear of him. I talked to the owner of the In Sure bull. Said he has been heavily used. Growth is not a problem on these cows. We are willing to give up some growth to get the birth weights down.
Farmgirl
---
self feeding protein supplement
by Llcolt (Posted Sat, 07 Dec 2013 07:55:15 GMT)
Thanks for the input...makes me more confident to proceed.
---
Kubota disc cutter?
by Angus Cowman (Posted Sat, 07 Dec 2013 07:14:26 GMT)
tnwalkingred wrote:I own a JD and a Kubota tractor today. I've owned NH and Massey's as well in the past. Other than the Massey's I would buy any of them again. I run a Vicon disc mower and cut about 100 acres of hay a year. I LOVE my Vicon mower! They are by far the best around in my opinion. I know many people like a Krone
and JD (NH painted green
) but the Vicon is the best I've been around. I wonder if they plan on keeping the Vicon name?
Kyle
Sorry but a JD cutter is nothing similar to a NH cutter NH cutter bar is completely different than any other cutter bar out there
---
What I'm seeing today
by Angus Cowman (Posted Sat, 07 Dec 2013 07:05:51 GMT)
Denver even a flat lander like Jed has traveled those exact same roads a time or two
You were only a couple miles from my old place thanks for the pics
that first hill on A off of 5 can sure fool ya when your loaded isn't steep but it will sure make ya know you got a load on
be careful out there
---
Bury My Heart at Wounded Knee
by inyati13 (Posted Sat, 07 Dec 2013 06:36:11 GMT)
Thanks, cross_7. Indians committed atrocities, too. Some of the most unique methods of torture thought up by man were conceived by Indian tribes of North America.
The atrocities committed by every clan, nation, tribe, and race are documented in the history of mankind. It occurred in every location inhibited by
Homo sapiens
. Conflict arises as a component of conquest, territoriality, completion for resources, political differences and sometimes because it is a means of demonstrating superiority.
Conquest, killing, torture, slavery, rape and pillage were considered privileges of the victor until man assembled the list of moral codes which have now been weaved into the moral fabric of man's religions.
---
---