Breeds of Beef Cattle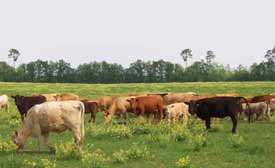 Cattle are considered to have been one of the first animals domesticated by man for agricultural purposes. They were tamed to provide milk, meat and hides and for draft purposes. The exact time and place this happened is hidden in the mists of antiquity, but it is thought they were probably first domesticated in Europe and Asia about 8500 years ago.
Domesticated cattle are in the family Bovidae which includes ruminates with paired, hollow, unbranched horns that do not shed and an even number of toes. They belong to the genus Bos and the subgenera Taurine which includes the two species tarus and indicus.
Cattle are ruminants (as are sheep, goats, deer, and giraffes), which gives them a unique digestive system that allows the digestion of otherwise unuseable foods by regurgitating and rechewing them as cud. They thrive on grasses and other low quality plants built predominantly of cellulose. Cattle have one stomach that has four compartments. They are named the rumen, reticulum, omasum, and abomasum. The rumen is the largest compartment and is like a fermentation tank, providing the anaerobic environment, constant temperature and pH, and constant mixing that allows microbes to break down the cellulolse. The reticulum, known as the "Honeycomb", is is the smallest compartment. The omasum's main function is to absorb water and nutrients and is known as the "Many Plies." The abomasum is most like the human stomach; this is why it is known as the "True Stomach."
All breeds of British and European cattle like Angus, Hereford, Charolais and Simmental belong to the tarus species. The humped cattle of the tropical countries like Brahman and Africander belong to the indicus species. Many contemporary breeds are the result of crossing two or more of the older breeds. Most of the new breeds originating in the United States were developed in the Southern states where the standard breeds lacked resistance to heat and insects and did not thrive on the native grasses. Other Bovidae that are so closely related to true cattle that they can interbreed include the bison, buffalo, and yak.
Purebred cattle breeds have been selectively bred over a long period of time to possess a distinctive identity in color, size, conformation, and function and have the prepotency to pass these traits to their progeny.
The world cattle population is estimated to be about 1.3 billion head, with about 30 percent in Asia, 20 percent in South America, 15 percent in Africa, 14 percent in North and Central America, and 10 percent in Europe. The 10 states in the US with the largest cattle populations are Texas, Missouri, Oklahoma, Nebraska, South Dakota, Montana, Kansas, Iowa, Kentucky, and Florida.
Click on the breed you would like to know more about in the Index on the left.
These are some of the current topics being discussed on CattleToday.com's Breeds Board. Why don't you join in?
Cattle Today Online!
Cattle Today Online is the cattleman's guide to the cattle business. Take your time and look around. You'll find the net's best cattle news, free livestock classified ads, free ranch listing, the latest USDA livestock market report, free ranch email, Baxter Black, and a free newsletter just for ranchers. While you are there browse our Links and find a list of breeders. Or make someone smile by sending them a Cow Card!
---
These are a few of the topics being discussed on the Q&A Boards.
Just click on the topic to read it. Why not join the discussion?
CattleToday.com
CattleToday's Q & A Boards are a Cattle Forum for swapping information and asking and answering questions about breed, health problems, beginners questions and jokes about cattle and horses.

Does this bull look okay?
by Kingfisher (Posted Mon, 27 Apr 2015 23:04:18 GMT)
Nice place! I see the rain has been good to ya! Throw some groceries on him! I like his color!


---
Grazing stockers
by Brentp (Posted Mon, 27 Apr 2015 22:48:28 GMT)
I believe Farm Credit sells LRP, at least in Tennessee. Not sure about Farm Credit of Virginia.
What is Craig Hammonds paying to graze calves this year?
---
how much bull is too much bull
by Kingfisher (Posted Mon, 27 Apr 2015 22:36:05 GMT)
I would like to know more about how to recognize good bull conformation. Surely there are decent bulls that go through the auction every week? Or I go to some of my farmer buddies and pick one out? Is it absolutely necessary to know EPD's and lineage?[/quote]
Think about the "science" side of it. It seems like you have some good mentors (or good fortune) from your prior experience but yea EPD's do matter. You've either got to be able to interpret that data or wing it on a "visual" interpretation of a live animal for breeding perfirmance. Neither is a slam dunk but some are more gifted at such and usually produce a solid calf. Like CB says ...it's easy "grass in front and a Bull in the back..... "
---
Creep Feed Ration
by Howdyjabo (Posted Mon, 27 Apr 2015 22:28:21 GMT)
just because it bothers me............
You are not creep feeding- that implies they have to crawl thru something to get at the feed and most importantly they are still on the cow.
You have them on a self feeder.
I just picked up on you saying they are eating nine lbs/day/head. The 16% feed will be more than fine at that rate. I had in my mind they were eating a good portion of hay or grass and they can't.
---
storm
by Deepsouth (Posted Mon, 27 Apr 2015 22:19:03 GMT)
http://wgno.com/2015/04/27/watch-strong ... on-parish/
---
Jason Leonard Did you see ?
by skyhightree1 (Posted Mon, 27 Apr 2015 22:17:00 GMT)
Jason did you see that blk angus heifer that was 8 mos bred weighed 641lbs sell for $535.00 bucks at Winchester sale?
---
Selling young bred heifers
by Ojp6 (Posted Mon, 27 Apr 2015 22:14:33 GMT)
Sell them in a sale barn and don't worry about their age. Or if you sell them private treaty just be honest about the weight and age. They could easily bring 1600 plus if they are nice and large framed for their weight.
---
Pondering....
by skyhightree1 (Posted Mon, 27 Apr 2015 22:08:28 GMT)
I am trying to wait till grass gets about 6-8 inches taller due to how slow its growing before I put some cattle on this piece. I am still feeding hay and have plenty left. If it were warmer and grasses growing better they would be on it already. My ponder is should I just put them on it now or should I wait. It has been consistently 40 degrees or so each morning and highs 60-70 and raining like crazy. This paddock is 12 acres or so and want to put all my 1st calf heifer pairs on it.
---
Hereford Vs Charolais
by fenceman (Posted Mon, 27 Apr 2015 21:53:40 GMT)
Red Bull Breeder wrote:If its not broke don't fix it.
If i was in your position i would stick with the char for now. The white calves are whipping everything now. My opinion is as long as beef is high they will. When beef prices come back down, and they will. The demand will shift back to quality instead of quantity. And the black cattle will do better. When Times get hard the cream will rise to the top.
---
GMO Free Seeds?
by chippie (Posted Mon, 27 Apr 2015 21:41:59 GMT)
Anything that keeps people from starving is OK by me.
---
20 month old bull
by Muddy (Posted Mon, 27 Apr 2015 21:29:30 GMT)
LauraleesFarm wrote:Supa Dexta--is your black bull confirmed homozygous for black? Because if he is not homozygous, then he could very easily throw red calves as well as black.
He's being sarcastic...
---
New cow with calf question
by AllForage (Posted Mon, 27 Apr 2015 21:23:02 GMT)
Welcome to the business breed!!
Sorry had to say it
---
Sold
by Williamsv (Posted Mon, 27 Apr 2015 21:06:04 GMT)
Yes, do enjoy your freedom. I threaten every week to sell all of mine, but then I keep on trying. I get a lot of pleasure from my cows and calves. It is so peaceful to just watch them graze on their green grass. I love to talk to my calves.
They do require a lot of time and attention. I sure don't make that much on them.
Good luck.
---
Vermeer 5410 Rebel or New Holland BR740
by etmountianman71 (Posted Mon, 27 Apr 2015 20:59:51 GMT)
pricefarm wrote:Thinking of trading up to a newer hay roller which one would you choice? I currently have a older i series vermeer. There are good dealers locally for both brands. I will be pulling it with a 6610 ford and a lot of my hay ground is steep I have always heard Vermeers are easyier to pull?
One of the best decisions that we have made for equipment was buying a Vermeer 2009 5410 baler. We have a Ford 3230 (38 hp) and found this baler to be easier on our tractor than a Heston 530. Good and tight bales, easy for maintenance, and will swallow up the hay like a catfish. We use plastic twine and run a 4x5 bale setting. It has the bigger floatation tires as well. Digital Monitor for controls
Only drawback is that we do not have the netwrap attachment.
Also you can register your used equipment with Vermeer and they will send you the factory manuals (operators, parts, and maintenance) FREE.
With our small tractor the we do have to drop down to low gear on hills going up but as with any baler always use extreme caution when going down a hill.
It took a while to convince my dad but he loves it, will not let me bale, says it is his to run.
---
Organic versus Conventional
by Kingfisher (Posted Mon, 27 Apr 2015 20:57:50 GMT)
How do they harvest that cabbage? What happens to the "trash" leaves? What do y'all call those big leaves on the perimeter ?
---
---