Breeds of Beef Cattle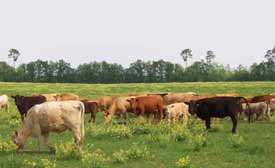 Cattle are considered to have been one of the first animals domesticated by man for agricultural purposes. They were tamed to provide milk, meat and hides and for draft purposes. The exact time and place this happened is hidden in the mists of antiquity, but it is thought they were probably first domesticated in Europe and Asia about 8500 years ago.
Domesticated cattle are in the family Bovidae which includes ruminates with paired, hollow, unbranched horns that do not shed and an even number of toes. They belong to the genus Bos and the subgenera Taurine which includes the two species tarus and indicus.
Cattle are ruminants (as are sheep, goats, deer, and giraffes), which gives them a unique digestive system that allows the digestion of otherwise unuseable foods by regurgitating and rechewing them as cud. They thrive on grasses and other low quality plants built predominantly of cellulose. Cattle have one stomach that has four compartments. They are named the rumen, reticulum, omasum, and abomasum. The rumen is the largest compartment and is like a fermentation tank, providing the anaerobic environment, constant temperature and pH, and constant mixing that allows microbes to break down the cellulolse. The reticulum, known as the "Honeycomb", is is the smallest compartment. The omasum's main function is to absorb water and nutrients and is known as the "Many Plies." The abomasum is most like the human stomach; this is why it is known as the "True Stomach."
All breeds of British and European cattle like Angus, Hereford, Charolais and Simmental belong to the tarus species. The humped cattle of the tropical countries like Brahman and Africander belong to the indicus species. Many contemporary breeds are the result of crossing two or more of the older breeds. Most of the new breeds originating in the United States were developed in the Southern states where the standard breeds lacked resistance to heat and insects and did not thrive on the native grasses. Other Bovidae that are so closely related to true cattle that they can interbreed include the bison, buffalo, and yak.
Purebred cattle breeds have been selectively bred over a long period of time to possess a distinctive identity in color, size, conformation, and function and have the prepotency to pass these traits to their progeny.
The world cattle population is estimated to be about 1.3 billion head, with about 30 percent in Asia, 20 percent in South America, 15 percent in Africa, 14 percent in North and Central America, and 10 percent in Europe. The 10 states in the US with the largest cattle populations are Texas, Missouri, Oklahoma, Nebraska, South Dakota, Montana, Kansas, Iowa, Kentucky, and Florida.
Click on the breed you would like to know more about in the Index on the left.
These are some of the current topics being discussed on CattleToday.com's Breeds Board. Why don't you join in?
Cattle Today Online!
Cattle Today Online is the cattleman's guide to the cattle business. Take your time and look around. You'll find the net's best cattle news, free livestock classified ads, free ranch listing, the latest USDA livestock market report, free ranch email, Baxter Black, and a free newsletter just for ranchers. While you are there browse our Links and find a list of breeders. Or make someone smile by sending them a Cow Card!
---
These are a few of the topics being discussed on the Q&A Boards.
Just click on the topic to read it. Why not join the discussion?
CattleToday.com
CattleToday's Q & A Boards are a Cattle Forum for swapping information and asking and answering questions about breed, health problems, beginners questions and jokes about cattle and horses.

atv size
by Lucasbranham (Posted Tue, 01 Dec 2015 04:40:16 GMT)
I have an 03 rancher 350 4x4 that I bought used about a year ago. I love the thing. I ride it about a mile up a paved road and another half mile on a dirt/gravel road to get the farm I was leasing up until this month. Plenty of power. I kept a chainsaw, small bag of fencing equipment, cable come along, and a bag of random tools/straps on it at all times. I never felt like I needed anything bigger. It will do about 51 mph downhill. It does lose speed on climbs in high gears. But for the money I spent and how reliable it's been, I don't think I would want anything else.


---
What's it worth?
by Aaron (Posted Tue, 01 Dec 2015 04:03:03 GMT)
Throw your bottom and top dollar out there. I don't need it, but I will go check it out here soon as it's only a few miles away. Needs a battery, start switch and tach for sure.
http://www.kijiji.ca/v-farming-equipment/winnipeg/285-massey-tractor-with-loader/1120913228?enableSearchNavigationFlag=true
---
First bull sale
by james coffelt (Posted Tue, 01 Dec 2015 02:54:47 GMT)
Our cow costs are based on $20 per acre rent, we own the land, however, consider land to be a separate enterprise. Minerals are $16 per head, per year. The balance is equipment and labor and few meds. Cattle are not vaccinated or wormed.
Cull cows are the key, i.e, going for grass finished beef, prior to 6, at $3.50 wholesale(hanging weight), or $4.50 retail, 60% yield which includes heart, tongue, liver, oxtail.
Seed stock value is only slightly above the cull prices above.
Steers are sold all natural, at the top of the commodity market. Steers pull the average down
Bulls pull the average up (Bulls are vaccinated, wormed, etc)
We are in the east, where demand exists for the all natural, grass fed products, also including broilers and eggs. Two thirds of the population of the USA is within an 8 hour drive.
I suspect this is harder in the west
---
Heating and Insulation ?'s
by wbvs58 (Posted Tue, 01 Dec 2015 02:24:42 GMT)
I think your stovepipe or flue as we call it is installed incorrectly. The lengths of pipe that join should have the female end on the bottom length with the top pipe being the male end inserted into her, that way any creosote that forms and runs will run inside the flue and down towards the fire and you will not see it. If you are seeing it run then your pipes are upside down.
For the likes of a barn that you will never have 100% tight I think some reflective insulation stapled to the rafters would be the go. The bubble wrap type foil insulation has good insulation properties and would throw a lot of heat back your way, it has the foil on both sides and would help a lot in summer.
---
HOWDY FROM TEXAS
by MATADOR (Posted Tue, 01 Dec 2015 00:58:40 GMT)
Rafter S wrote:Welcome. "From Texas" covers a lot of territory. What part?
From Tomball, Waller area north west of Houston. I am currently living over in the Llano Escatado going to Texas Tech University.
---
how often do you check your cattle (non-calving season)?
by C-Ranch (Posted Tue, 01 Dec 2015 00:50:37 GMT)
greatgerts wrote:I actually looked at some drones last week. If I could find some with a better battery life, I think I'd go for it. I don't know if I'd be able to zip around all of the pastures, and wooded areas and get back within 20-25 minutes. Maybe I am being overly cautious, but I don't want to have that go down in a spot that I cannot get to, because the battery didn't last long enough.
I agree, the battery life on drones isn't the best and extra batteries aren't cheap either. Of all the drones I have looked at I would probably go with the Yuneec 500+ 4k good machine and camera plus batteries are a little less than others. People that use drones for farm/ranching recommend getting 4 batteries and a quick charger which gives you a little more than hour of flight time depending on altitude, wind, and speed.
With the right set up it could sure help many of us out when it comes to checking water, finding cow/calves that are spread out or in places hard to get into, flying fence lines, mapping fields, etc.
---
What are you eating today?
by wacocowboy (Posted Tue, 01 Dec 2015 00:33:42 GMT)
skyhightree1 wrote:Since I let Waco down I will try to redeem myself.
Cake I made yesterday
This was thanksgiving plate
Wonder who made this
Sky is back!!! Lol that is some good looking food you have redeemed yourself buddy. I love some deviled eggs haven't had any in a long time.
---
Shorthorn bull calves
by WalnutCrest (Posted Tue, 01 Dec 2015 00:11:34 GMT)
At a minimum, the roan bull could make some nice freezer beef and a great rug for someone.
---
Controlling Johnson grass
by Bigfoot (Posted Tue, 01 Dec 2015 00:11:11 GMT)
I believe your doing all you can. Personally, I quit fighting it. I cut rake and roll it and go on. There are easier, and cheaper battles.
---
Cheapest place to raise cattle
by Bigfoot (Posted Tue, 01 Dec 2015 00:06:06 GMT)
I promise I'm not a negative Nellie, but when threads like this come up, I usually offer caution. I'm not convinced a place like you have in mind still exist. A few years ago, it probably did. If 550 pound calves were still $2, then it still might somewhere. Your talking a place with fair weather, good grass, fertile ground, and lots of water. Those places command a high price. The description matches western Ky. I may be a little jaded. Land has skyrocketed in my area. Maybe it hasn't everywhere. Idk. I do know for a fact, that cattle won't pay for land in my area, and have money left over for living expenses. I hope you do the find the place you have in mind.
---
Duluth Trading
by tamarack (Posted Mon, 30 Nov 2015 23:51:45 GMT)
Have not had a look at their products but like the commercials
---
Stay tuned Alan
by wacocowboy (Posted Mon, 30 Nov 2015 23:48:50 GMT)
skyhightree1 wrote:wacocowboy wrote:Sky someone needs to slap you in the back of the head. Nasty!!! I seen you post some good looking plates of food (Most times can't see the plate.) and thought highly of you now I don't know what to make of you.
Someone names Alan made me promise him I would try it...
Did you lose a bet? You are braver than me no way would I have tried it. Trying those one time was enough for me.
---
SAV Bruiser
by tnwalkingred (Posted Mon, 30 Nov 2015 23:45:13 GMT)
I'm not in love with the picture of him but judging by his numbers he is one of my favorite SAV Bulls. I often wonder why they don't post updated pictures on the sites.
KW
---
Wean calf how long?
by fnfarms1 (Posted Mon, 30 Nov 2015 23:37:55 GMT)
I think most will say minimum of 30days to be considered weaned, especially if putting them back with the momma cows afterward. 45-60days is preferred.
---
Debruycker Charolais Bulls
by fnfarms1 (Posted Mon, 30 Nov 2015 23:33:10 GMT)
Nice calves.
---
---