Breeds of Beef Cattle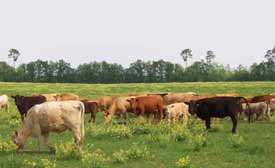 Cattle are considered to have been one of the first animals domesticated by man for agricultural purposes. They were tamed to provide milk, meat and hides and for draft purposes. The exact time and place this happened is hidden in the mists of antiquity, but it is thought they were probably first domesticated in Europe and Asia about 8500 years ago.
Domesticated cattle are in the family Bovidae which includes ruminates with paired, hollow, unbranched horns that do not shed and an even number of toes. They belong to the genus Bos and the subgenera Taurine which includes the two species tarus and indicus.
Cattle are ruminants (as are sheep, goats, deer, and giraffes), which gives them a unique digestive system that allows the digestion of otherwise unuseable foods by regurgitating and rechewing them as cud. They thrive on grasses and other low quality plants built predominantly of cellulose. Cattle have one stomach that has four compartments. They are named the rumen, reticulum, omasum, and abomasum. The rumen is the largest compartment and is like a fermentation tank, providing the anaerobic environment, constant temperature and pH, and constant mixing that allows microbes to break down the cellulolse. The reticulum, known as the "Honeycomb", is is the smallest compartment. The omasum's main function is to absorb water and nutrients and is known as the "Many Plies." The abomasum is most like the human stomach; this is why it is known as the "True Stomach."
All breeds of British and European cattle like Angus, Hereford, Charolais and Simmental belong to the tarus species. The humped cattle of the tropical countries like Brahman and Africander belong to the indicus species. Many contemporary breeds are the result of crossing two or more of the older breeds. Most of the new breeds originating in the United States were developed in the Southern states where the standard breeds lacked resistance to heat and insects and did not thrive on the native grasses. Other Bovidae that are so closely related to true cattle that they can interbreed include the bison, buffalo, and yak.
Purebred cattle breeds have been selectively bred over a long period of time to possess a distinctive identity in color, size, conformation, and function and have the prepotency to pass these traits to their progeny.
The world cattle population is estimated to be about 1.3 billion head, with about 30 percent in Asia, 20 percent in South America, 15 percent in Africa, 14 percent in North and Central America, and 10 percent in Europe. The 10 states in the US with the largest cattle populations are Texas, Missouri, Oklahoma, Nebraska, South Dakota, Montana, Kansas, Iowa, Kentucky, and Florida.
Click on the breed you would like to know more about in the Index on the left.
These are some of the current topics being discussed on CattleToday.com's Breeds Board. Why don't you join in?
Cattle Today Online!
Cattle Today Online is the cattleman's guide to the cattle business. Take your time and look around. You'll find the net's best cattle news, free livestock classified ads, free ranch listing, the latest USDA livestock market report, free ranch email, Baxter Black, and a free newsletter just for ranchers. While you are there browse our Links and find a list of breeders. Or make someone smile by sending them a Cow Card!
---
These are a few of the topics being discussed on the Q&A Boards.
Just click on the topic to read it. Why not join the discussion?
CattleToday.com
CattleToday's Q & A Boards are a Cattle Forum for swapping information and asking and answering questions about breed, health problems, beginners questions and jokes about cattle and horses.

Longhorn Cross
by wildcatkit52 (Posted Tue, 21 Oct 2014 09:42:42 GMT)
Right. It wouldn't be an over night deal. The bull whould be heterozygous. The calves will not be all white. Even if they are they their offspring can be sold too. The biggest cut is the longhorn colors at the sale barn. Beefalo has no set coloration. Pied are white mostly. I don't have to have a "all black" heard. If I get to that someday then i do. Until then I can have both and the colors of both. Eventually the black will win out if I keep AI'ing with homozygous black bulls.


---
Is this true ???
by skyhightree1 (Posted Tue, 21 Oct 2014 09:41:44 GMT)
greybeard wrote:skyhightree1 wrote:LOL I ran into Kroger and was met with that sign.
They must have heard you were coming......
Nesikep wrote:yeah, he's the cause of the shortage...
We had a flood of organic milk here when I was milking Mega
Nesi I couldnt help it I was thirsty
regolith wrote:Absolutely true.
At least over here, the main dairy company terminated its contract with a bunch of organic dairies claiming there was no market for the stuff. So this is a very predictable result, since the evidence of lack of market was very much on the thin side.
wow thats just crazy I cant believe that is happening.
---
Houston Texans--anyone watch last night?
by greybeard (Posted Tue, 21 Oct 2014 09:38:43 GMT)
Good Lord they sucked--both sides of the ball. 1st round draft pick and they come away with no offense...............
---
torogmc81
by Craig Miller (Posted Tue, 21 Oct 2014 09:38:20 GMT)
---
Skyhightree on the way to the doctor/hospital
by skyhightree1 (Posted Tue, 21 Oct 2014 09:37:48 GMT)
backhoeboogie wrote:Glad you are going to be okay.
Thank you so much
dieselbeef wrote:if you had become a zombie you wouldve been one famous dude..
well til they shot ya in the head....
LOL id rather not be famous and keep my brains intact
---
Good Looking T-Shirt!
by Black and Good (Posted Tue, 21 Oct 2014 09:37:13 GMT)
I gotta have one ! B&G
---
Dogs and Cows
by skyhightree1 (Posted Tue, 21 Oct 2014 09:32:28 GMT)
Hope you have a great day.
---
Hauling Calves - Ohiosteve I need your creative mind.
by skyhightree1 (Posted Tue, 21 Oct 2014 09:30:03 GMT)
Ohio do you still fool with those jerseys?
Fitz my family used to haul pigs that way and an occasional cow
I guess I could put sides on my truck but have no ramp to get lets say a 300lb calf up in there which is why I prefer to use something low like a utility trailer. M5 where did you get the pic? that is hilarious.
---
Building A Herd From Scratch
by Jabes0623 (Posted Tue, 21 Oct 2014 09:17:37 GMT)
So I got in touch with the Hereford Association, they are having a sale Dec 13 in Hillsboro OH. I'm going to attend & if I see something I like I may go ahead & buy then.
So to all you Hereford owners out there what specifically should I look for? I'll be taking my Brother in laws Father with me who has raised cows for 60 years but ultimately this is my decision so I want to have as much knowledge as I can so don't spare the details.
---
The trip we all dread
by Red Bull Breeder (Posted Tue, 21 Oct 2014 09:16:42 GMT)
Dave you have some tough times ahead, you will be in my prayers.
---
I still need some help with craigslist! Please.
by TexasBred (Posted Tue, 21 Oct 2014 09:03:26 GMT)
skyhightree1 wrote:I have put 1 dollar in there if I was running an add for WTB - want to buy since I cant put what someone will want for it.
I've seen that on quite a few ads myself.
---
Utah National Guard Not Happy
by TexasBred (Posted Tue, 21 Oct 2014 08:58:16 GMT)
dryfork2 wrote:Added to bookmark and favorites for further review. anyone got an idea how long. a battery lasts in older samsung galaxy 3. ???
Who cares?? Batteries are cheap...that video needs to be saved for posterity.
---
Another Beefmaster Bull...
by East Caney (Posted Tue, 21 Oct 2014 08:31:58 GMT)
gizmom wrote:Not a Beef Master person but if I was I sure wouldn't throw any of the bulls that have been pictured on this thread out of my pasture.
gizmom
Neither was I several years ago, but then I tried them. I've never been one to suggest all of any breed is good or great. The breed is subject to the decisions of the breeders. That said, I've been connected with some people in the Beefmaster breed who breed the right way, and my experience with Beefmasters has been a good one. I know Beefmasters will work in the cold because I've watched the foundation herd operate that way for years. They were built, however, to perform the competition in the south. I think it's just a matter of people trying them. If a person has commercial angus cows in the southern part of the U.S., I can't imagine a better product that mottle face or bald face Beefmaster bull crossed calves.
---
Niche breeds that marble well and finish in good time?
by Taurus (Posted Tue, 21 Oct 2014 07:56:14 GMT)
CP hits the nail in head! I completely agreed with what he says.
---
Anti-Gun Advocate
by Ouachita (Posted Tue, 21 Oct 2014 07:22:02 GMT)
He will make somebody a perfect Vice President. Bomb proof in fact. Keep your eye on this guy, he will be moving up rapidly in the ranks. Think about VP's over the years; Reagan was the last to have a VP that was qualified to take the reigns if need be. All others have immunized themselves with a moron.
---
---