Breeds of Beef Cattle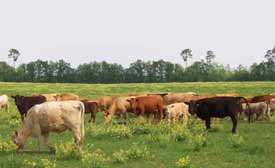 Cattle are considered to have been one of the first animals domesticated by man for agricultural purposes. They were tamed to provide milk, meat and hides and for draft purposes. The exact time and place this happened is hidden in the mists of antiquity, but it is thought they were probably first domesticated in Europe and Asia about 8500 years ago.
Domesticated cattle are in the family Bovidae which includes ruminates with paired, hollow, unbranched horns that do not shed and an even number of toes. They belong to the genus Bos and the subgenera Taurine which includes the two species tarus and indicus.
Cattle are ruminants (as are sheep, goats, deer, and giraffes), which gives them a unique digestive system that allows the digestion of otherwise unuseable foods by regurgitating and rechewing them as cud. They thrive on grasses and other low quality plants built predominantly of cellulose. Cattle have one stomach that has four compartments. They are named the rumen, reticulum, omasum, and abomasum. The rumen is the largest compartment and is like a fermentation tank, providing the anaerobic environment, constant temperature and pH, and constant mixing that allows microbes to break down the cellulolse. The reticulum, known as the "Honeycomb", is is the smallest compartment. The omasum's main function is to absorb water and nutrients and is known as the "Many Plies." The abomasum is most like the human stomach; this is why it is known as the "True Stomach."
All breeds of British and European cattle like Angus, Hereford, Charolais and Simmental belong to the tarus species. The humped cattle of the tropical countries like Brahman and Africander belong to the indicus species. Many contemporary breeds are the result of crossing two or more of the older breeds. Most of the new breeds originating in the United States were developed in the Southern states where the standard breeds lacked resistance to heat and insects and did not thrive on the native grasses. Other Bovidae that are so closely related to true cattle that they can interbreed include the bison, buffalo, and yak.
Purebred cattle breeds have been selectively bred over a long period of time to possess a distinctive identity in color, size, conformation, and function and have the prepotency to pass these traits to their progeny.
The world cattle population is estimated to be about 1.3 billion head, with about 30 percent in Asia, 20 percent in South America, 15 percent in Africa, 14 percent in North and Central America, and 10 percent in Europe. The 10 states in the US with the largest cattle populations are Texas, Missouri, Oklahoma, Nebraska, South Dakota, Montana, Kansas, Iowa, Kentucky, and Florida.
Click on the breed you would like to know more about in the Index on the left.
These are some of the current topics being discussed on CattleToday.com's Breeds Board. Why don't you join in?
Cattle Today Online!
Cattle Today Online is the cattleman's guide to the cattle business. Take your time and look around. You'll find the net's best cattle news, free livestock classified ads, free ranch listing, the latest USDA livestock market report, free ranch email, Baxter Black, and a free newsletter just for ranchers. While you are there browse our Links and find a list of breeders. Or make someone smile by sending them a Cow Card!
---
These are a few of the topics being discussed on the Q&A Boards.
Just click on the topic to read it. Why not join the discussion?
CattleToday.com
CattleToday's Q & A Boards are a Cattle Forum for swapping information and asking and answering questions about breed, health problems, beginners questions and jokes about cattle and horses.

The devil is always pretty
by Nesikep (Posted Tue, 30 Sep 2014 10:21:00 GMT)
I'll get to putting it on the right way.. just need a new pin.

Ron, you're totally right, and that is a to-it of mine... we had the big cows in there and they *demolished* the manger... 20 years of the calves being in there has dug the posts right out of the ground, so I'm going to have to rebuild the works. I'm pretty good about the bale twine, cigarette butts, etc, but it is a constant battle keeping up with maintenance... I have to do a lot of repairs to the corrals too.

Yes, bathtub waterers.. very common sight around here.


---
Anyone breed like this?
by 3waycross (Posted Tue, 30 Sep 2014 10:18:11 GMT)
GG2 wrote:I have thought about remaking my cow herd into all or mostly all gelbvieh/angus cross cows and breed them to a simangus bull. Does anyone have this set up already in place?
It's still a 3waycross. Should work great and those calves would really pound the scales.
---
Lime
by Chuckie (Posted Tue, 30 Sep 2014 10:18:05 GMT)
If you use Durana clover, you would never have to re-seed it. It spreads by stolens and seed. It is like Johnson grass. It has spread from pastures into my bermuda and Zoysia grass and it will soon cover the entire yard. I have never seen anything like it.
---
Bottle Calves - Little Calves - Big Profits
by skyhightree1 (Posted Tue, 30 Sep 2014 10:15:10 GMT)
51 views no responses.. Hmm..
---
Beheading in Oklahoma!
by Chuckie (Posted Tue, 30 Sep 2014 10:14:31 GMT)
Jogeephus, why can't we rescue the Lemmings before they dive off the cliff and sell them to different Petco's. They could put them in the cages right next to the Ferrets?
---
Amazingly tough
by Nesikep (Posted Tue, 30 Sep 2014 10:13:31 GMT)
My heart would sink as well, they are remarkably tough animals, I hope this guy makes it.
I've been lucky with wildlife, never yet mown over a fawn
---
IH 404 tractor
by skyhightree1 (Posted Tue, 30 Sep 2014 10:13:01 GMT)
Nesikep wrote:Shush!!!
On our 684 the trannies are pretty bulletproof, though a little clunky to shift.. biggest gripe about ours is the +90% spacing between 2nd and 3rd.. 3rd is just way too big a gap.
My 986 plenty of power and everything but if you dont take your time shifting gears get crossed and grinds like a MF going in gear Low and High that is and reverse is a MF
---
My little girl
by alisonb (Posted Tue, 30 Sep 2014 09:56:17 GMT)
She's lovely Deepsouth, best wishes to her and the young man
---
Heats question
by branguscowgirl (Posted Tue, 30 Sep 2014 09:55:07 GMT)
cmf1 wrote:branguscowgirl wrote:Just put scratch off heat detectors on them and check twice per day. If placed properly they are very good indicators of who is standing.
I use the Estrotect heat patches.
Pretty cheap insurance and they haven't lied to me yet.
Still relatively new to it though.
Yes, they are very good. I have been using them for years. I usually put on two of them at a time a few inches apart. If both are pink, they are definitely standing.
---
when you post
by alisonb (Posted Tue, 30 Sep 2014 09:51:23 GMT)
john250 wrote:Do you ever, like me, hesitate at that button which says SUBMIT?
You're afraid of rejection
Limomike wrote:Its a good thing there is an edit button too...
---
Daily Joke
by Chuckie (Posted Tue, 30 Sep 2014 09:47:35 GMT)
The U.S. Postal Service has issued a recall of a stamp they created with a picture of Hillary Clinton on it to honor her achievements while serving as first lady of our country.
A problem was discovered when people started telling the Postal Service that the stamp was just not sticking to envelopes. A special postal service investigation team was formed, and after several months, and many millions of dollars spent, they made the following findings. First, they found out the stamp was manufactured properly; second, there was nothing wrong with the adhesive. Finally they concluded that people were spitting on the wrong side of the stamp!
---
Last Weekend of Sept
by Jake (Posted Tue, 30 Sep 2014 09:39:02 GMT)
gizmom wrote:Cattle look good Jake bet your glad you gave that heifer a second chance! I bet she makes you some money!
Gizmom
That and I paid too much for her to kill her when it wasn't her fault the calf died. Long story but when nobody checks calving heifers for 12 hours in sub zero temps your not going to save many.
---
Dehorning...
by Limomike (Posted Tue, 30 Sep 2014 09:25:20 GMT)
We do at weaning time. Use the scoops , then burn to cauterize
---
Put down my first cow, don't use a 9MM
by Limomike (Posted Tue, 30 Sep 2014 09:19:00 GMT)
Yep.. placement is everything. I think I have ever used anything except a 22 lr to put one down.
---
Games my kids play
by Limomike (Posted Tue, 30 Sep 2014 09:15:34 GMT)
Thats a great set-up. I like it. My son and I used to play with all the tractors and implements pretending to do farm work on the living room floor.
Now that he has his own son, me and my Grandson do that same thing.
---
---