Breeds of Beef Cattle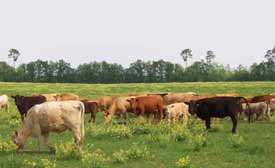 Cattle are considered to have been one of the first animals domesticated by man for agricultural purposes. They were tamed to provide milk, meat and hides and for draft purposes. The exact time and place this happened is hidden in the mists of antiquity, but it is thought they were probably first domesticated in Europe and Asia about 8500 years ago.
Domesticated cattle are in the family Bovidae which includes ruminates with paired, hollow, unbranched horns that do not shed and an even number of toes. They belong to the genus Bos and the subgenera Taurine which includes the two species tarus and indicus.
Cattle are ruminants (as are sheep, goats, deer, and giraffes), which gives them a unique digestive system that allows the digestion of otherwise unuseable foods by regurgitating and rechewing them as cud. They thrive on grasses and other low quality plants built predominantly of cellulose. Cattle have one stomach that has four compartments. They are named the rumen, reticulum, omasum, and abomasum. The rumen is the largest compartment and is like a fermentation tank, providing the anaerobic environment, constant temperature and pH, and constant mixing that allows microbes to break down the cellulolse. The reticulum, known as the "Honeycomb", is is the smallest compartment. The omasum's main function is to absorb water and nutrients and is known as the "Many Plies." The abomasum is most like the human stomach; this is why it is known as the "True Stomach."
All breeds of British and European cattle like Angus, Hereford, Charolais and Simmental belong to the tarus species. The humped cattle of the tropical countries like Brahman and Africander belong to the indicus species. Many contemporary breeds are the result of crossing two or more of the older breeds. Most of the new breeds originating in the United States were developed in the Southern states where the standard breeds lacked resistance to heat and insects and did not thrive on the native grasses. Other Bovidae that are so closely related to true cattle that they can interbreed include the bison, buffalo, and yak.
Purebred cattle breeds have been selectively bred over a long period of time to possess a distinctive identity in color, size, conformation, and function and have the prepotency to pass these traits to their progeny.
The world cattle population is estimated to be about 1.3 billion head, with about 30 percent in Asia, 20 percent in South America, 15 percent in Africa, 14 percent in North and Central America, and 10 percent in Europe. The 10 states in the US with the largest cattle populations are Texas, Missouri, Oklahoma, Nebraska, South Dakota, Montana, Kansas, Iowa, Kentucky, and Florida.
Click on the breed you would like to know more about in the Index on the left.
These are some of the current topics being discussed on CattleToday.com's Breeds Board. Why don't you join in?
Cattle Today Online!
Cattle Today Online is the cattleman's guide to the cattle business. Take your time and look around. You'll find the net's best cattle news, free livestock classified ads, free ranch listing, the latest USDA livestock market report, free ranch email, Baxter Black, and a free newsletter just for ranchers. While you are there browse our Links and find a list of breeders. Or make someone smile by sending them a Cow Card!
---
These are a few of the topics being discussed on the Q&A Boards.
Just click on the topic to read it. Why not join the discussion?
CattleToday.com
CattleToday's Q & A Boards are a Cattle Forum for swapping information and asking and answering questions about breed, health problems, beginners questions and jokes about cattle and horses.

Clearing Woods....Next Step??
by trapsht (Posted Thu, 03 Sep 2015 11:13:02 GMT)
1st timer with my first post. I've spent a lot of time using the search function and have learned a lot. I don't have experience with raising cattle at all. Been reading books and googling. I live on 55acres that is mostly woods with my young family. I'm trying to buck modern day parenting, and get my kids off electronics and outside. We've been raising chickens for awhile, and want to raise the bar with beef. I don't care about making money with this, I just want to teach my kids life lessons and provide quality meat for my family and friends. Of course I'll be selling it to them. I'd like to start with 2 young steers and finish them. If all goes well, then maybe I'll venture into cow/calf.

I'm clearing out woods to make a pasture. Currently, I've cleared a little over an acre and want to end at 2 acres total. All root balls are coming out. I don't know where to begin once I have it cleared. Naturally, I want to have cattle as soon as possible, but I don't want to let my eagerness get in the way of a properly planned pasture. I'm going to assume that I should have a well grown pasture before I introduce cows. Should I consider planting this fall with the hopes of introducing cows in the spring? Or plant in the spring and wait until the following spring(2017) to purchase cows? I live in northern Illinois with a short growing season. Thanks!!


---
clipping under electric fence
by M-5 (Posted Thu, 03 Sep 2015 11:08:47 GMT)
Kell-inKY wrote:Aaron wrote:Fellow I know bought one of these at an auction we were both at in MN.
http://www.fencemower.com/products_fm60.asp
It was brand new, still in the crate. Think he paid $600. I should see if he ever used it and if he liked it.
That looks awesome, I would give $600 for that all day long. I have a LOT of fence I don't want to spray, mostly 4 board fence, but some cross fencing too, this would be a huge time saver VS weedeating. I don't like looking out the window and seeing dead lines running through the fields personally, though my perimeter looks like that mostly.
a homemade one would be fairly simple to build with a old mower deck and a spare gear box
---
Your thoughts on these two
by thommoos (Posted Thu, 03 Sep 2015 11:07:29 GMT)
Southern Balancers
Male- Born 1/29/2015 Gelbveih sire AMBGV1247060a straight forward by jbob grandson, dam- beefmaster c949637 -CJ Bubba by Magic Pride Grand daughter
female born 3/8/2015 Gelbveih sire AMBGV1247060a straight forward by jbob grandson, dam- beemfaster c1017865-
---
Fall Hereford bull sales
by Herefords.US (Posted Thu, 03 Sep 2015 11:05:58 GMT)
NolanCountyAG wrote:Thank you for all the info. I'll be looking into all of those places.
I found the Indian Mound catalog on the AHA website:
http://www.hereford.org/static/salesCatalogs/indianmound15.pdf
Looks like they have got some nice bulls again this year.
---
More August Pictures
by Nesikep (Posted Thu, 03 Sep 2015 11:03:41 GMT)
Very nice calves, some real thumpers in there!, and they're well put together too.
---
wifes got stomach cancer
by Judge Sharpe (Posted Thu, 03 Sep 2015 10:49:38 GMT)
I am continuing my prayers for your family. Sometimes it seems that nothing is happening, but it takes a lot to come back from a serious surgery like your wife's. Please know if my family were closer to you we would be helping in any way we could, even is it was only for someone to listen to your rants about the situation.
Don't be shy about ask for help. When I had my bypasses or when my wife had her brain surgery we would have had a much harder time making it without help from our neighbors and friends.
People are good for the most part.
Again you are in our thoughts and prayers.
---
New pasture - bale or leave alone?
by joeu235 (Posted Thu, 03 Sep 2015 10:44:05 GMT)
thanks for the reply. I didn't think about the rake messing with runners.
---
Limping Cow
by TCRanch (Posted Thu, 03 Sep 2015 10:42:57 GMT)
boondocks wrote:As a newbie, may I ask a side question: how does one best administer aspirin? (assume animal is in chute/headgate)
Thanks!
With a balling gun, preferably metal because they can easily bite through the plastic ones. But a lot of my girls will simply eat them out in the pasture if I break them in half, put them in a bowl with cubes & drizzle a little molasses over it.
---
Holy rump roast, this udder is epic!
by TCRanch (Posted Thu, 03 Sep 2015 10:35:58 GMT)
Nesikep wrote:Here's my cow with the ginormous udder just after calving
https://www.youtube.com/watch?v=4mhECCMxi1w
I keep saying I'll get rid of her soon, but I still keep her around.. she'll be 12 this spring, raises a great calf, and her daughters all have good udders. This year she must have stepped on one of her teats while laying down and cut it, but it healed without any interference from me.... Maybe next year she'll get shipped.. I've always either had more feed than I needed (so I might as well keep her), or worse problem cows (open, etc) to deal with.
Yikes, she could feed a small herd! Kind of hard to tell but at least her teats don't look freakishly huge . Makes it a lot harder to ship when they're prolific breeders, raise great calves & are easy to work. Good luck - she looks like a great cow.
---
Black and Good
by Workinonit Farm (Posted Thu, 03 Sep 2015 10:33:57 GMT)
Have a happy B'day!
---
Is this hiefer Beefmaster, Brangus or .....?
by Huntet02 (Posted Thu, 03 Sep 2015 10:33:35 GMT)
I sure thank everyone for their helpful comments, advice and goodness. Here's latest pics, she sure is a cute little stinker, sturdy and hearty so far...
---
JD 5310 brake ques
by dieselbeef (Posted Thu, 03 Sep 2015 10:33:20 GMT)
kingfsh nailed it. springs go bad in the axles. wet brakes. gotta pull em..bout 250 bucks n parts if ya don't brake nothing..800$ labor. I did mine ..it aint hard but its heavy
tractor. net has alotta info on it...search my name itll turn up
---
Daily Inspiration!
by Williamsv (Posted Thu, 03 Sep 2015 10:28:57 GMT)
Very good post for these days and times. Words that we all needed to hear and remember. Thank you for blessing my day.
---
Hay labor
by Bestoutwest (Posted Thu, 03 Sep 2015 10:20:32 GMT)
That's awesome! Very creative.
---
Beef cow/calf in confinement
by Till-Hill (Posted Thu, 03 Sep 2015 10:14:24 GMT)
I'd agree on little more "work" in confinement. But time it takes me just to drive to pastures I'd of had alley scraped and cattle bedded.
I'm going to price a building and just see where/what it would take to build it. If it doesn't work I can always put dairy heifers in it I guess.
Read somewhere $1400 a unit to get it built.....
---
---