Breeds of Beef Cattle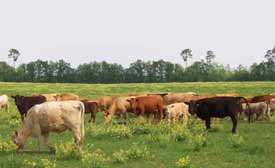 Cattle are considered to have been one of the first animals domesticated by man for agricultural purposes. They were tamed to provide milk, meat and hides and for draft purposes. The exact time and place this happened is hidden in the mists of antiquity, but it is thought they were probably first domesticated in Europe and Asia about 8500 years ago.
Domesticated cattle are in the family Bovidae which includes ruminates with paired, hollow, unbranched horns that do not shed and an even number of toes. They belong to the genus Bos and the subgenera Taurine which includes the two species tarus and indicus.
Cattle are ruminants (as are sheep, goats, deer, and giraffes), which gives them a unique digestive system that allows the digestion of otherwise unuseable foods by regurgitating and rechewing them as cud. They thrive on grasses and other low quality plants built predominantly of cellulose. Cattle have one stomach that has four compartments. They are named the rumen, reticulum, omasum, and abomasum. The rumen is the largest compartment and is like a fermentation tank, providing the anaerobic environment, constant temperature and pH, and constant mixing that allows microbes to break down the cellulolse. The reticulum, known as the "Honeycomb", is is the smallest compartment. The omasum's main function is to absorb water and nutrients and is known as the "Many Plies." The abomasum is most like the human stomach; this is why it is known as the "True Stomach."
All breeds of British and European cattle like Angus, Hereford, Charolais and Simmental belong to the tarus species. The humped cattle of the tropical countries like Brahman and Africander belong to the indicus species. Many contemporary breeds are the result of crossing two or more of the older breeds. Most of the new breeds originating in the United States were developed in the Southern states where the standard breeds lacked resistance to heat and insects and did not thrive on the native grasses. Other Bovidae that are so closely related to true cattle that they can interbreed include the bison, buffalo, and yak.
Purebred cattle breeds have been selectively bred over a long period of time to possess a distinctive identity in color, size, conformation, and function and have the prepotency to pass these traits to their progeny.
The world cattle population is estimated to be about 1.3 billion head, with about 30 percent in Asia, 20 percent in South America, 15 percent in Africa, 14 percent in North and Central America, and 10 percent in Europe. The 10 states in the US with the largest cattle populations are Texas, Missouri, Oklahoma, Nebraska, South Dakota, Montana, Kansas, Iowa, Kentucky, and Florida.
Click on the breed you would like to know more about in the Index on the left.
These are some of the current topics being discussed on CattleToday.com's Breeds Board. Why don't you join in?
Cattle Today Online!
Cattle Today Online is the cattleman's guide to the cattle business. Take your time and look around. You'll find the net's best cattle news, free livestock classified ads, free ranch listing, the latest USDA livestock market report, free ranch email, Baxter Black, and a free newsletter just for ranchers. While you are there browse our Links and find a list of breeders. Or make someone smile by sending them a Cow Card!
---
These are a few of the topics being discussed on the Q&A Boards.
Just click on the topic to read it. Why not join the discussion?
CattleToday.com
CattleToday's Q & A Boards are a Cattle Forum for swapping information and asking and answering questions about breed, health problems, beginners questions and jokes about cattle and horses.

Australian Talk.
by wbvs58 (Posted Wed, 30 Jul 2014 03:06:06 GMT)
Jilleroo, I generally agree with the $3000 starting price however the writing was on the wall for this year and we could have advertised the fact we had dropped the price to $2500 for this year only and really pushed it. I am sure we would have sold a lot more and I think the better ones would have got an extra bid or two with the extra competition. I guess we will talk about it at the post mortem but I know they will stick to their guns.
All those odds n sods sure add up to a lot of extra feed Jilleroo. I am just waiting for my calf recording forms to come through so I can get my calves registered then I can test all the ones that could be potential carriers of genetic conditions and any that come back as carriers will be sold as cow/calf as the cow will be the carrier also. When I cull the cows next year I should be free of any genetic conditions bar two very exceptional cows that I may keep for another year or two to try and get another clear heifer from them. One of them I bought as a carrier of AM and I have now got a very good family of cows/heifers from her. They just keep producing good females for me free of AM.
You are sounding a bit like Suzie there Jilleroo with your plants and bargains from Crazy's. I always get a lot of satisfaction making something from materials that are to hand in the junk pile. Something the family won't have to get rid of when I die and I get something usefull in the meantime.
I am off to Brisbane tomorrow for my daughters graduation. She did a bachelor degree in, I think, Project Management in the building industry. She was a qualified draftsman but while she was rearing the kids she did this degree externally from Central Qld Uni, its been a bit of a slog but she has stuck to it and done well.
Ken


---
Jesse Ventura vs Chris Kyle
by Son of Butch (Posted Wed, 30 Jul 2014 02:31:04 GMT)
I was
Shocked
hearing Jesse Ventura won his defamation lawsuit vs Chris Kyle's estate with jury vote of 8-2
to award Ventura 1.8 million dollars.
Kyle's lawyers apparently are idiots.
1. Burden of proof was on Ventura.
2. Jury was reported as dead locked.
[i took it as a bad sign for Kyle, because i thought Ventura had no chance of winning, and obviously his lawyers had
convinced at least part of the jury otherwise.]
3. Rather than accepting the dead lock as a 'win', and force Ventura and his lawyers to prove his case 100% by pursuing the
lawsuit with a new trial at a later date with a new jury, they decided to risk it and agree to accept a majority decision when
they had to know losing was now a possibility.
[i didn't know accepting a less than unanimous verdict is an option, but apparently it is IF both sides agree to accept it.]
4. When you have the advantage that the other side has to get 100% of the votes to win, you should never agree to
surrender that advantage and agree to accept anything less than 100%.
It's not the first time I have been shocked by a jury's decision.
But when it happened before, it usually has been when one side's attorneys weren't very good and snatched defeat
from the jaws of a victory.
---
I dont know!!!!!
by Ryder (Posted Wed, 30 Jul 2014 01:38:14 GMT)
Thanks for the post TB.
---
women v/s men
by Chuckie (Posted Wed, 30 Jul 2014 01:32:40 GMT)
How will we know if the vote is actually accurate with liberals on the board? They always vote more than once.
---
I remember - She was big
by FlyingLSimmentals (Posted Wed, 30 Jul 2014 01:10:49 GMT)
You're right Ron she was big to big for me. Just think if she had an off day what she could have done with all that weight and power. I do bet she raised some bigguns like her too that made you a lot of money. I'm like you I like to be hands on with all my cattle but be careful those are some powerful beasts.
---
Found Some Bad News
by FlyingLSimmentals (Posted Wed, 30 Jul 2014 00:57:39 GMT)
Thanks, branguscowgirl! Actually the cow in the background isn't her, she was across the pasture a ways and Effie was on her way there for dinner and decided to stop and look at me. I thought perfect time for a pic and snapped it. The cow's udder has gotten much better looking probably better looking than the one in the background. If I remember I'll try and take a pic of her tomorrow when I make my rounds.
---
Court of Public Opinion - Beefmaster Bull Calf
by East Caney (Posted Wed, 30 Jul 2014 00:50:53 GMT)
Chuckie wrote:I suppose you raised him?
No Chuckie, a friend of mine produced him. This calf is the subject of multiple debates. One debate is whether or not he has too much leather to be given a chance as a bull. The other is about the quality of the calf with the exception of the sheath. That's why I'm seeking some honest opinions.
There's also another calf that I'll probably post to the thread for critique and comparison.
EC
---
1st Calving Heifer and her Stetson heifer Baby
by FlyingLSimmentals (Posted Wed, 30 Jul 2014 00:38:59 GMT)
Thanks, Kingfisher! Right now they have free choice loose mineral. It's a Triple Trust 4% Mineral for beef cattle. It's manufactured by Ridley Block Operations Mankato, MN. These Triple Trust minerals have really done well for us and they are a lot less expensive than some others. A good dose of Dectomax dewormer I think really helps in shining and slicking that hair coat up as well. Ours get Dectomax in the Spring and or Summer and in the Fall or Winter Ivermectin.
---
Consistent Maternal Attitudes ?
by Taurus (Posted Wed, 30 Jul 2014 00:38:59 GMT)
Sometimes its better to cull a heifer if she lost her calf for some reasons. I made this mistake too many times. It seems that their disposition just got worse when they had their second calf.
---
Explanations from you
by B&M Farms (Posted Tue, 29 Jul 2014 23:48:31 GMT)
Shanghai wrote:OKC sold nearly 5000 head on Monday. If they sold them one at a time they'd still be there.
The bigger sales group like calves together. If you bring two 5 wt calves in they may be grouped with similar type and weight calves.
The singles usually have a problem, limping, too poor, horned, odd colored, and etc.
Sometimes they're are just mismanaged calves that need a little tlc and can be bought cheap
People that have a reputation of raising good calves and cut, wean and vaccinate are announced who owns them and what's been done to the calves.
Watch the Woodward sale on Friday and you'll see the ring man/owner giving the auctioneer a note telling about certain groups of calves.
IMO it pays to do it and if I'm buying I'd spend a little more for calves that I know have been weaned and vaccinated and likely to have less trouble with.
Edit
Stockers and feeders like groups of similar genetics , type, weight and etc so they're performance will be the same calf to calf
People sometimes get caught up in what they know and have seen and think it's the only way. The sale I use has never run 5000 head of calves but I have seen 1400 go thru one at a time in 3 hours. The buyers don't get to think about them long because they don't get to see or bid long. I do agree that you can make more on uniform loads but here if you have that you don't have to take them to a sale barn. Sale barns are for people like me. Not someone with 200 head of mamas.
The problem here is there are too many people that think any ole cow will do and don't even consider trying to maximize profit. .10 cents a pound adds up with 200 head.
---
cowgirl8 question for you.
by Kingfisher (Posted Tue, 29 Jul 2014 23:22:31 GMT)
Anybody got a pic of that group of steers I think Jogee fed out last fall? A pic might help since some of us are "visual". Don't they say a pic is worth 1000 words....
---
How bout this bull
by Kingfisher (Posted Tue, 29 Jul 2014 23:18:36 GMT)
He's got some balls! . Oops can I say that....
---
Ticks
by skyhightree1 (Posted Tue, 29 Jul 2014 23:02:30 GMT)
Only safe way to never get ticks is don't have pets that go outside and you never go outside... That being said I wet myself pants shirt with sportsmans off 40% deet does a great job for me.
---
New Holland 845 Auto Wrap baler
by svig (Posted Tue, 29 Jul 2014 22:40:09 GMT)
Hi,
My baler isn't tying well and I have discovered that the shaft that runs the tying mechanism is loose inside of the main shaft that runs the apron chains. Is this supposed to be a solid shaft that runs through the larger shaft that the apron chain sprockets are bolted to, or are the 1 1/4 inch solid shafts on each end, pressed into the larger shaft? I looked on the New Holland website at the parts book and it shows it as one piece.
I have removed the shaft from the baler but the loose end will not come out of the larger shaft. It seems like it has a shoulder on it that has been pushed in too far.
Thanks
---
Collecting Semen
by I luv herfrds (Posted Tue, 29 Jul 2014 22:32:42 GMT)
Our big herd bull ,Pete, has gotten hoof rot. Vet came out and has treated him twice for it.
He is healing but slowly.
we really love his genetics and hate having to ship him. So I contacted a guy who does semen collection in Utah who is coming up in September so we are going to have him do a collection. Talked with our vet and he said there is a chance we might not get a lot out of him due to him being sick.
Will the hoof rot affect his semen production?
---
---