Breeds of Beef Cattle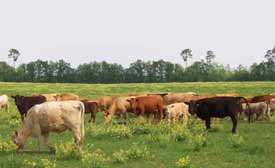 Cattle are considered to have been one of the first animals domesticated by man for agricultural purposes. They were tamed to provide milk, meat and hides and for draft purposes. The exact time and place this happened is hidden in the mists of antiquity, but it is thought they were probably first domesticated in Europe and Asia about 8500 years ago.
Domesticated cattle are in the family Bovidae which includes ruminates with paired, hollow, unbranched horns that do not shed and an even number of toes. They belong to the genus Bos and the subgenera Taurine which includes the two species tarus and indicus.
Cattle are ruminants (as are sheep, goats, deer, and giraffes), which gives them a unique digestive system that allows the digestion of otherwise unuseable foods by regurgitating and rechewing them as cud. They thrive on grasses and other low quality plants built predominantly of cellulose. Cattle have one stomach that has four compartments. They are named the rumen, reticulum, omasum, and abomasum. The rumen is the largest compartment and is like a fermentation tank, providing the anaerobic environment, constant temperature and pH, and constant mixing that allows microbes to break down the cellulolse. The reticulum, known as the "Honeycomb", is is the smallest compartment. The omasum's main function is to absorb water and nutrients and is known as the "Many Plies." The abomasum is most like the human stomach; this is why it is known as the "True Stomach."
All breeds of British and European cattle like Angus, Hereford, Charolais and Simmental belong to the tarus species. The humped cattle of the tropical countries like Brahman and Africander belong to the indicus species. Many contemporary breeds are the result of crossing two or more of the older breeds. Most of the new breeds originating in the United States were developed in the Southern states where the standard breeds lacked resistance to heat and insects and did not thrive on the native grasses. Other Bovidae that are so closely related to true cattle that they can interbreed include the bison, buffalo, and yak.
Purebred cattle breeds have been selectively bred over a long period of time to possess a distinctive identity in color, size, conformation, and function and have the prepotency to pass these traits to their progeny.
The world cattle population is estimated to be about 1.3 billion head, with about 30 percent in Asia, 20 percent in South America, 15 percent in Africa, 14 percent in North and Central America, and 10 percent in Europe. The 10 states in the US with the largest cattle populations are Texas, Missouri, Oklahoma, Nebraska, South Dakota, Montana, Kansas, Iowa, Kentucky, and Florida.
Click on the breed you would like to know more about in the Index on the left.
These are some of the current topics being discussed on CattleToday.com's Breeds Board. Why don't you join in?
Cattle Today Online!
Cattle Today Online is the cattleman's guide to the cattle business. Take your time and look around. You'll find the net's best cattle news, free livestock classified ads, free ranch listing, the latest USDA livestock market report, free ranch email, Baxter Black, and a free newsletter just for ranchers. While you are there browse our Links and find a list of breeders. Or make someone smile by sending them a Cow Card!
---
These are a few of the topics being discussed on the Q&A Boards.
Just click on the topic to read it. Why not join the discussion?
CattleToday.com
CattleToday's Q & A Boards are a Cattle Forum for swapping information and asking and answering questions about breed, health problems, beginners questions and jokes about cattle and horses.

Justifying a second tractor......
by John SD (Posted Fri, 12 Feb 2016 23:23:09 GMT)
Brute 23 wrote:Most leases have a deal where they get their money out of you one way or another. It's not like renting where you can walk away at any point, no strings attached.

Exactly. That is why I prefer to purchase instead of lease. Then I own the machine and can do as I see fit with it


---
Angus Heifer bull ideas
by Air gator (Posted Fri, 12 Feb 2016 23:17:46 GMT)
I would consider Connealy Thunder. A 10 for CED. Good numbers for CEM and DOC. Also if you get heifers you can breed them to a lot of different sire lines. There are some nice A.I bulls out of CT cows.
---
This ain't a range cube is it?
by branguscowgirl (Posted Fri, 12 Feb 2016 23:14:53 GMT)
ez14 wrote:I never would have thought that this thread would have gone 4 pages
It's because I am here to confuse things! That's what I do best.
---
Cliven Bundy
by ez14 (Posted Fri, 12 Feb 2016 23:12:30 GMT)
Kathie in Thorp wrote:ez14 wrote:ga.prime wrote:Hurley, you know you're arguing with a bunch of crazy people?
Not crazy people just people woundering when enough is enough
And you think the crazy people are . . . . Who? Those of you in Georgia and other places not even near the conflicts here. ??
Im not sure what you mean. But i never called any body crazy
---
She was Pregnant, I was right
by ez14 (Posted Fri, 12 Feb 2016 23:01:03 GMT)
wagonwrench wrote:Thanks for the link ez14......
your welcome
---
Galvanized Tin Roof Paint
by M-5 (Posted Fri, 12 Feb 2016 22:39:43 GMT)
Use a generic rust stopper and coat it with fibered alum coating
---
Ky beef expo
by Bigfoot (Posted Fri, 12 Feb 2016 22:13:30 GMT)
Ky cowboy wrote:It's February 19-21 at fair grounds. Mainly looking for angus heifer/cow to start trying AI. Then turning hereford bull we have out as a clean up.
I think angus sell on Saturday morning if I am remembering right. Loading what you buy is a pain in the tail. The trade show is decent.
---
17 HMR
by Caustic Burno (Posted Fri, 12 Feb 2016 21:47:54 GMT)
Bigfoot wrote:Caustic Burno wrote:You can't even find them here.
Forget CCI stinger in LR as well.
Want some?
Thanks
I'm good still have almost a brick left on the mag several on the LR.
Good to see them appearing again.
---
Zero turn mower recommendations
by John SD (Posted Fri, 12 Feb 2016 21:47:21 GMT)
JMJ Farms wrote:Thanks for all the replies. I am gonna try to do some serious looking in the next couple of weeks.
You might be able to make a heck of a deal on a last year's model that didn't get sold, but probably won't be any tremendous deals when new stock comes in a month or two. Don't see any mowers on display floors now anywhere. Snowblowers only.
---
Square Round bale feeder
by wagonwrench (Posted Fri, 12 Feb 2016 21:44:34 GMT)
Here are a few pictures of a feeder I made recently. It seems to be working good for feeding small square bales with little waste. I copied this from one that was 6' x 8' so I would think one could load a round bale in the top & let the animals feed away if it was that size. I made this one a little smaller because of lack of tractor & I have a ring when I feed round bales. This one ended up 5' x 7' & its about 4' tall. All made from rough cut lumber for about $150.00.
Maybe a roof like M-5 has might be in order next....
[url][URL=http://s1175.photobucket.com/user/wagonwrench/media/feeder%20010_zps0dsmiith.jpg.html][/url][/url]
[url][URL=http://s1175.photobucket.com/user/wagonwrench/media/feeder%20012_zpsqhbfj1dm.jpg.html][/url][/url]
---
Unexplained down cows
by branguscowgirl (Posted Fri, 12 Feb 2016 21:44:26 GMT)
http://cancergrace.org/wp-content/uploa ... um-map.jpg
This is a very general map. More detailed ones can be found also.
---
Bred Heifer Pics
by TennesseeTuxedo (Posted Fri, 12 Feb 2016 21:34:21 GMT)
Black Pearl.
---
Hey Texans - Whatever happened with Twin Peaks?
by True Grit Farms (Posted Fri, 12 Feb 2016 21:20:34 GMT)
In my opinion what those cops did was a public service cause any fool that decides to get involved in something like that deserves what they end up with.[/quote]
Slick I assume that the cops "snipers" only killed the folks that were actively doing the shooting? Hopefully the bikers that the cops killed had powder residue on the hands. Because a lot of folks ride motorcycles and don't deserve to be killed.
---
Pre- Valentines Day surprise for wife
by slick4591 (Posted Fri, 12 Feb 2016 21:10:30 GMT)
SJB wrote:if you take flowers to her school, it won't matter what they are or how many. every woman loves getting flowers in front of their peers, no matter what they might tell you.
I agree, but under no circumstances feed her a heavy meal. Heavy meals has made for some not-so-romantic Valentines days for me till I learned.
---
Your thoughts: DUI drugs/alcohol, bad wreck...consequences
by Caustic Burno (Posted Fri, 12 Feb 2016 20:46:06 GMT)
Kathie in Thorp wrote:BarbG wrote:Thankfully the spoiled kid in Texas was just moved to adult jail now that he's 18 and hopefully justice will prevail and he'll go to prison. Which is where he should have been in the first place.
Agreed! But as a juvenile, he wouldn't have gone to prison.
They could have tried him as an adult the first time.
I like to see that judges bank records or they had a picture of the judge on a golf course
screwin a goat.
---
---