Breeds of Beef Cattle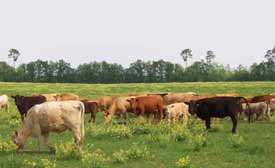 Cattle are considered to have been one of the first animals domesticated by man for agricultural purposes. They were tamed to provide milk, meat and hides and for draft purposes. The exact time and place this happened is hidden in the mists of antiquity, but it is thought they were probably first domesticated in Europe and Asia about 8500 years ago.
Domesticated cattle are in the family Bovidae which includes ruminates with paired, hollow, unbranched horns that do not shed and an even number of toes. They belong to the genus Bos and the subgenera Taurine which includes the two species tarus and indicus.
Cattle are ruminants (as are sheep, goats, deer, and giraffes), which gives them a unique digestive system that allows the digestion of otherwise unuseable foods by regurgitating and rechewing them as cud. They thrive on grasses and other low quality plants built predominantly of cellulose. Cattle have one stomach that has four compartments. They are named the rumen, reticulum, omasum, and abomasum. The rumen is the largest compartment and is like a fermentation tank, providing the anaerobic environment, constant temperature and pH, and constant mixing that allows microbes to break down the cellulolse. The reticulum, known as the "Honeycomb", is is the smallest compartment. The omasum's main function is to absorb water and nutrients and is known as the "Many Plies." The abomasum is most like the human stomach; this is why it is known as the "True Stomach."
All breeds of British and European cattle like Angus, Hereford, Charolais and Simmental belong to the tarus species. The humped cattle of the tropical countries like Brahman and Africander belong to the indicus species. Many contemporary breeds are the result of crossing two or more of the older breeds. Most of the new breeds originating in the United States were developed in the Southern states where the standard breeds lacked resistance to heat and insects and did not thrive on the native grasses. Other Bovidae that are so closely related to true cattle that they can interbreed include the bison, buffalo, and yak.
Purebred cattle breeds have been selectively bred over a long period of time to possess a distinctive identity in color, size, conformation, and function and have the prepotency to pass these traits to their progeny.
The world cattle population is estimated to be about 1.3 billion head, with about 30 percent in Asia, 20 percent in South America, 15 percent in Africa, 14 percent in North and Central America, and 10 percent in Europe. The 10 states in the US with the largest cattle populations are Texas, Missouri, Oklahoma, Nebraska, South Dakota, Montana, Kansas, Iowa, Kentucky, and Florida.
Click on the breed you would like to know more about in the Index on the left.
These are some of the current topics being discussed on CattleToday.com's Breeds Board. Why don't you join in?
Cattle Today Online!
Cattle Today Online is the cattleman's guide to the cattle business. Take your time and look around. You'll find the net's best cattle news, free livestock classified ads, free ranch listing, the latest USDA livestock market report, free ranch email, Baxter Black, and a free newsletter just for ranchers. While you are there browse our Links and find a list of breeders. Or make someone smile by sending them a Cow Card!
---
These are a few of the topics being discussed on the Q&A Boards.
Just click on the topic to read it. Why not join the discussion?
CattleToday.com
CattleToday's Q & A Boards are a Cattle Forum for swapping information and asking and answering questions about breed, health problems, beginners questions and jokes about cattle and horses.

Net Wrap Removal Tips and Tricks
by Angus Cowman (Posted Thu, 27 Nov 2014 08:05:45 GMT)
lucky7chief wrote:I found this online. It's probably too expensive to justify.

http://www.keltec.ie/baleslice.html
We have one of these and love it mainly because it saves time on mixing the hay and sileage bales when putting them in the TMR
Plus when we put hay in the cotton trailers it is broken up and the cows can eat more of it opposed to a whole round bale because it is more like loose hay


---
happy thanksgiving everyone
by Drzr (Posted Thu, 27 Nov 2014 07:59:16 GMT)
in everything give thanks; for this is the will of God in Christ Jesus for you. (I Thessalonians 5:18 NKJV)
Be anxious for nothing, but in everything by prayer and supplication, with thanksgiving, let your requests be made known to God; (Philippians 4:6 NKJV)
---
3pt hay unroller questions
by scf84 (Posted Thu, 27 Nov 2014 07:54:24 GMT)
john SD do you have any pics of yours? they would be greatly appreciated thanks.
---
I Am Thankful
by M5farm (Posted Thu, 27 Nov 2014 07:50:21 GMT)
I am thankful for my salvation and knowing that when I take
my last breath here I will be with my savior. I am thankful
for the people that have gone before me that left a mark on
my life. I am thankful for my family and friends. I am
thankful for the hard times I have endured because they have
made me a better man. I am blessed beyond measure and could
never compile a list that would do justice to the peace I
have in my heart. 
---
Ferguson fiasco
by MO_cows (Posted Thu, 27 Nov 2014 07:12:55 GMT)
Something else that made the KC protest go better, I think, was they MARCHED. They didn't just mill around. It gave purpose, burned off that angry energy, and bonus for them, exposed more people to their message. They marched for miles, then some older, or not fit people realized they were miles from their car and police gave rides back. That is about as good as you could hope for.
---
Help on mixing
by rockin5granch (Posted Thu, 27 Nov 2014 06:54:22 GMT)
Thanks for the response. I already have the wheat and it is not ground but I will see if I can locate a grinder. In the meantime I will double the soyhulls and add corn. I don't have any Dried Distillers Grains locally if that was what ddg refers to. Thanks.
---
Nothing to do but gestate
by inyati13 (Posted Thu, 27 Nov 2014 06:48:18 GMT)
Nesikep wrote:Yup, I misread that about 5 times... funny how once your mind is set on something there's no changing it!
We're in for a cold snap around here, but it's been raining hard all day yesterday and last night.. Supposed to be -20C before the weekend, I'm hoping not, I have another load of cattle to ship on Sunday and it won't happen at those temps.
It has warmed up in the last 10 days. This picture shows the green. It has been in the 60s since this photo so it is even greener now!!!!
---
Massey Ferguson 290
by Aaron (Posted Thu, 27 Nov 2014 06:46:43 GMT)
skyhightree1 wrote:Aaron wrote:skyhightree1 wrote:hours don't mean shyt what matters is the pm that was done on the tractor. I look at hours when I buy a used machine.. other than a look hours are not a part of the equation as to buy or not.
pm?
Hours don't mean anything except on used machines? Then what are we talking about here, a new tractor? Me thinks you been drinking Sky...
Aaron here in the us we call pm preventive maintenance .. in other words hours are not something I think about when figuring on buying used equipment. I buy and sell used tractors and equipment all year long. Often used old tractors hour meters stopped working.
Ok, never heard it abbreviated before. If the hour meter quits working and isn't fixed properly, I wouldn't touch those tractors - that in itself is lack of maintenance. Also big difference in value between tractor with 1,000 hours and one with 15,000 hours.
---
Limousin
by Red Bull Breeder (Posted Thu, 27 Nov 2014 06:41:51 GMT)
How you been Houston? I didn't think Doc ever even read a Limousin Thread!!
---
Well I shot one
by inyati13 (Posted Thu, 27 Nov 2014 06:38:41 GMT)
Caustic Burno wrote:HOSS wrote:Sounds like you soak em' in ice water like I do. I keep the quarters in ice water for 3 days and then cut up. Probably more ice than water. Drain off and replace the bloody water each day.
Yep they soak until the meat is white.
Have a bunch of apple wood I am going to smoke the sausage in.
inyati13
I love that that round never shot a deer with it that didn't drop in its tracks.
Have to make my brass by reforming 30-30, the 30-30 is just a necked down 32-40
30 cal and 30 grains of the new powder is where the name came from
.
That spike was about 85 yards.
Yes. The 30-30 came after the .32-40. By then smokeless powder or as you say, the new powder was available. There were a number of cartridge designations that were used in the black powder days where the second number was the amount of black powder that went into the case (.45-90, etc). I am speculating that they did that because men who handloaded around the campfire with the original hand tools of the day did not have reference material. That way it was easy to remember the charge in grains. Although most probably had no scale but used powder scoops like you see with the Lee hand tools.
---
Denver, CO - Interesting Buildings Downtown
by inyati13 (Posted Thu, 27 Nov 2014 06:21:08 GMT)
I was impresssed how they saved this Church.
I didn't get the best angle to show it. But the high-rise was designed to save the Church and allow space in the back to use the doors, etc. The high-rise is horseshoe shaped to not infringe on ingress, egress and regress of the Church:
Cash Register- one of Denver's highest top elevations.
---
Turkey rub ideas.
by M5farm (Posted Thu, 27 Nov 2014 06:07:13 GMT)
Brine
Water enough to cover Turkey
Onion qtred
Cup of brown sugar
Cup of salt
3 bay leaves
2 satsumas cut and squeezed / don't throw them away after you squeeze put them in the brine.
I got up at 4 and lit the egg smoker.
Rub
I changed my mind this morning when I o opened the bag , the sweet smell of the oranges made me get the Greek seasoning , I also used a little lemon pepper.
.
3 to 4 hrs it should be done
---
Surprise diagnosis- FINALLY!
by gonzo (Posted Thu, 27 Nov 2014 05:25:01 GMT)
My vet told me low selenium is a problem in our area. I get the se blocks , don't know if they have a loose min around here with high SE
---
How is everyone doing in the cold?
by gonzo (Posted Thu, 27 Nov 2014 04:56:23 GMT)
IT'S BEEN A LITTLE WARMER LATELY GOT 13 IN. OF SNOW LAST NITE GOTTA GET OUT IN IT COME DAY LIGHT
---
Nervous Nellie
by kucala5 (Posted Thu, 27 Nov 2014 04:48:39 GMT)
She's real calm and gentle, I'm the the nervous one. She calved fine the first time. Didn't breed back for a Spring calf and is over conditioned. We put her with a new bull last winter and she got bred, so this will the first calf we get out of him. That's why we're keeping her so close. She has about an acre to move around in.
---
---