Breeds of Beef Cattle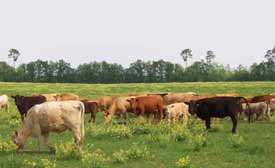 Cattle are considered to have been one of the first animals domesticated by man for agricultural purposes. They were tamed to provide milk, meat and hides and for draft purposes. The exact time and place this happened is hidden in the mists of antiquity, but it is thought they were probably first domesticated in Europe and Asia about 8500 years ago.
Domesticated cattle are in the family Bovidae which includes ruminates with paired, hollow, unbranched horns that do not shed and an even number of toes. They belong to the genus Bos and the subgenera Taurine which includes the two species tarus and indicus.
Cattle are ruminants (as are sheep, goats, deer, and giraffes), which gives them a unique digestive system that allows the digestion of otherwise unuseable foods by regurgitating and rechewing them as cud. They thrive on grasses and other low quality plants built predominantly of cellulose. Cattle have one stomach that has four compartments. They are named the rumen, reticulum, omasum, and abomasum. The rumen is the largest compartment and is like a fermentation tank, providing the anaerobic environment, constant temperature and pH, and constant mixing that allows microbes to break down the cellulolse. The reticulum, known as the "Honeycomb", is is the smallest compartment. The omasum's main function is to absorb water and nutrients and is known as the "Many Plies." The abomasum is most like the human stomach; this is why it is known as the "True Stomach."
All breeds of British and European cattle like Angus, Hereford, Charolais and Simmental belong to the tarus species. The humped cattle of the tropical countries like Brahman and Africander belong to the indicus species. Many contemporary breeds are the result of crossing two or more of the older breeds. Most of the new breeds originating in the United States were developed in the Southern states where the standard breeds lacked resistance to heat and insects and did not thrive on the native grasses. Other Bovidae that are so closely related to true cattle that they can interbreed include the bison, buffalo, and yak.
Purebred cattle breeds have been selectively bred over a long period of time to possess a distinctive identity in color, size, conformation, and function and have the prepotency to pass these traits to their progeny.
The world cattle population is estimated to be about 1.3 billion head, with about 30 percent in Asia, 20 percent in South America, 15 percent in Africa, 14 percent in North and Central America, and 10 percent in Europe. The 10 states in the US with the largest cattle populations are Texas, Missouri, Oklahoma, Nebraska, South Dakota, Montana, Kansas, Iowa, Kentucky, and Florida.
Click on the breed you would like to know more about in the Index on the left.
These are some of the current topics being discussed on CattleToday.com's Breeds Board. Why don't you join in?
Cattle Today Online!
Cattle Today Online is the cattleman's guide to the cattle business. Take your time and look around. You'll find the net's best cattle news, free livestock classified ads, free ranch listing, the latest USDA livestock market report, free ranch email, Baxter Black, and a free newsletter just for ranchers. While you are there browse our Links and find a list of breeders. Or make someone smile by sending them a Cow Card!
---
These are a few of the topics being discussed on the Q&A Boards.
Just click on the topic to read it. Why not join the discussion?
CattleToday.com
CattleToday's Q & A Boards are a Cattle Forum for swapping information and asking and answering questions about breed, health problems, beginners questions and jokes about cattle and horses.

sh
by Kingfisher (Posted Wed, 20 Aug 2014 00:43:57 GMT)
Anybody seen Cowgirl8?


---
They shoulda kick her out
by greybeard (Posted Wed, 20 Aug 2014 00:41:14 GMT)
TexasBred wrote:Bet when she's not "pitching" she's a pole dancer.
She's got a heck of a future then, out in Odessa.
---
Close call Sunday
by Kingfisher (Posted Wed, 20 Aug 2014 00:39:14 GMT)
Brute 23 wrote:It's not just a Ford thing. They all do it. The GO 1500s from 90 to now eat them up in no time. Especially with larger tires.
You can usually feel them go out. There will be a real slight vibration when let off the gas. It will show at certain speeds and not at others. If you press the gas it usually stops. Kind of remind you of a u - joint but from the front.
I know you don't have curbs in S Texas but around here you curb that sort of bearing it usually upsets em. If you pull a wheel on one with some miles and don't torque it proper it upsets em too...
---
Hoss
by greybeard (Posted Wed, 20 Aug 2014 00:39:01 GMT)
Belated Happy Birthday Hoss.
(I was on the road all day yesterday)
---
Street legal Utv
by greybeard (Posted Wed, 20 Aug 2014 00:37:41 GMT)
Running Arrow Bill wrote:In Texas if you want to avoid EMS picking you up with a sponge...lots of truck traffic here... Just drive your ATV or whatever it is in the wide Bar Ditches... not on roads. Just watch out for culverts and holes...lol.
They catch ya driving one (or anything) in the bar ditches around here, they throw ya in the pokey and impound the vehicle.
Tex DPS was going to write me up and call the wrecker for riding mine in the ditch in front of my place, just going from the East gate down to check the lock on the West gate. Told him I was too old to walk that far and he told me to get a horse, and He wasn't in a joking mood either.
---
Help resolve a conversation...
by Kingfisher (Posted Wed, 20 Aug 2014 00:33:22 GMT)
I think y'all had too much beer..... If a cow is grazing she ain't full. Nothing better than one chewing her cud...
---
East Texas rain
by greybeard (Posted Wed, 20 Aug 2014 00:19:35 GMT)
Left Paris Tx this morning and hit a little rain in Delta County. On and off thru Hopkins County, cleared up in Rains, Van Zandt and Henderson Counties.
Stopped and ate in Jacksonville and it POURED all the way thru Cherokee and Angelina Counties. Could hardly see thru the wipers in Alto and traffic slowed to a crawl.
Got home, rain guage was same as my road--dry and dusty, but there had been wind. Got 2 more white oaks down--big ones too.
---
Obamacare For Ages 65 and Over
by greybeard (Posted Tue, 19 Aug 2014 23:46:15 GMT)
Chuckie wrote: God let people live on earth for hundreds of years. Obama gives 65.
The way some people tell it, they are one and the same.......
---
!!! RAIN !!!
by Kathie in Thorp (Posted Tue, 19 Aug 2014 23:46:07 GMT)
MistyMorning wrote:backhoeboogie wrote:MistyMorning wrote:
I work in the wildland fire world, they are moving resources off the Carlton Complex, that usually means, the incident is getting less critical.
Look at what the cats have done drug up! Welcome back stranger.
Well, bless your heart BHB. [/quote
Misty Morning and Kenny T -- I think you've both sent man power out here. It's better every day. Thank you.
---
Johnny Football
by Brute 23 (Posted Tue, 19 Aug 2014 23:00:39 GMT)
houstoncutter wrote:He has all the trademarks of a spoiled entitled rich kid.
What gives you that impression?
---
Happy Birthday milkmaid
by LazyARanch (Posted Tue, 19 Aug 2014 22:46:27 GMT)
young lady! Hope you had a great day!
---
Little League World Series
by Kingfisher (Posted Tue, 19 Aug 2014 22:33:53 GMT)
LRTX1 wrote:Pearland lost a nail biter tonight. Quite a few calls didn't go their way. Still in it though, just got to fight through the losers bracket.
I didn't see the game but I saw the score...Illinois team is good but seems like Texas kind of used up their pitching.
---
Breaded Tomatoes
by kenny thomas (Posted Tue, 19 Aug 2014 22:32:59 GMT)
MO_cows wrote:Not breaded as in drench and dredge. Breaded tomatoes are sort of stewed tomatoes with cubes of bread in them. It seems to be more common in the south. But yep, fried green tomatoes are a coming with the first frost warning.
Sorry, never seen that here. Must not be far enough south.
---
Show Is Done
by I luv herfrds (Posted Tue, 19 Aug 2014 22:28:36 GMT)
Ok. Still learning. Thank you for all the info!
VCC going to see if we can get rice bran from the mill we get feed from.
We have 3 different grain bins going to see if DD and I can take one over just for her steers feed.
Thanks Harley!
Looks like 405; new steer; will be getting started in October after we wean.
---
7.3, 6.0, 6.4 Diesel Fuel Tank Vents
by bear (Posted Tue, 19 Aug 2014 22:28:20 GMT)
Has anyone had the fuel tank vent update done per TSB 7-24-4
If you have been getting water in your tank and couldn't figure out where it was coming from, good chance it was coming from here.
---
---